Archived Horror Half Hour episodes
downloaded 2003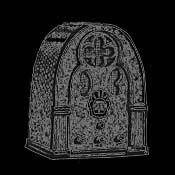 The Horror Half Hour Index
For show synopsis, see Mystery Playhouse Index (click here) They have the same show numbers, but an extra half hour program.
#1-59
N/A (Different host and format)
Note: Some of the Horror Half Hour shows listed below are N/A. That means it was a full hour program that couldn't be divided into a half hour show.
Beginning of Series
#60
The New Moon Murders (Mystery Playhouse)
#61
The House on Cypress Canyon (Suspense)
#62
Leinengan vs. The Ants (Escape)
#63
The Parade (X minus 1)
#64
Thing on the Fourbleboard (Quiet Please)
#65
N/A
#66
Three Skeleton Key (Escape)
#67
Return to Dust (Suspense)
#68
Incident at Switchpath (Beyond Tomorrow)
#69
Martian Chronicles (X minus 1)
#70
N/A
#71
The Green Hills of Earth (Dimension X)
#72
Soldier Boy (X minus 1)
#73
Snake Doctor (Escape)
#74
Three O'clock High (Suspense)
#75
N/A
#76
Hostess (X minus 1)
#77
N/A
#78
Universe (Dimension X)
#79
The Shipment of Mute Fate (Escape)
#80
Report from a Dead Planet (Suspense)
#81
The Outer Limit (Dimension X)
#82
N/A
#83 (Christmas Show)
The Cave (Escape)
#84 (Christmas Show)
It's a Wonderful Life (Screen Director's Guild)
#85-86
N/A
#87 (New Year's Show)
If You Believe (Mysterious Traveler
#88
Abominable Snowman (Escape)
#89
The Crawling Thing (Hall of Fantasy)
#90
N/A
#91
Rats in The Wall (H.P. Lovecraft)
#92
N/A
#93
The Life Boat Mutiny (X minus 1)
#94
Back Seat Driver (Suspense)
#95
Behind the Locked Door (The Mysterious Traveler)
#96
The Hangman's Rope (Hall of Fantasy)
#97
The Martian Death March (X minus 1)
#98
The Chain (The Black Museum)
#99
The Night the Fog Came (Hall of Fantasy)
#100
Suicide (Mystery Playhouse)
#101
Death Across The Board (Inner Sanctum)
#102
The Mask of Medusa (Mystery In the Air)
#103 (Independence Day)
A Tooth for Paul Revere (Escape)
#104
N/A
#105
The Man Who Knew How (Suspense)
#106
August Heat (Suspense)
#107
Bird of Death (The Haunting Hour)
#108
Time and Time Again (Dimension X)
#109
Fugue in C Minor (Suspense)
#110
The Pit and the Pendulum (Suspense)
#111
N/A
#112
The Pink Powder Puff (The Black Museum)
#113
A Pail of Air (X minus 1)
#114
Chandu, the Magician (Premiere episode)
#115
Ghost Always Get the Last Laugh (Inner Sanctum)
#116
Four Fingers and a Thumb (The Witches Tale)
#117
N/A
#118
Colony (X minus 1)
#119-122
N/A
#123
Death is a Joker (Inner Sanctum)
#124
N/A
#125
The Chicken Heart That Ate the World (Mystery Playhouse)
#126
Conqueror's Isle (Escape)
#127
Poltergeist (Lights Out)
#128
The Guilty Always Run (Suspense)
#129
The Last Survivor (Mysterious Traveler)
#130
Nice To Meat You (Mystery Playhouse)
#131
The Roads Must Roll (X minus One)
#132
The Spider (Lights Out)
#133
Murder at Twin Pines (The Whistler)
#134
Too Little to Live On (Suspense)
#135
The Souvenir (Mystery Playhouse)
#136-139
N/A
#140
Panic (The Whistler)
#141
The Golden Snake (Escape)
#142
Junkyard (X minus One)
#143-144
N/A
#145
The Hands of Mr. Ottermole (Suspense)
#146
Let the Lilies Consider (Quiet Please)
#147
Deadly Rumor (The Whistler)
#148
Letter from Jason (Escape)
#149
The Pathetic Fallacy (Quiet Please)
#150
N/A
#151
The Strange Case of Charles Umberstein (Suspense)
#152-153
N/A
#154
No One on the Line (Mysterious Traveler)
#155
The Knock (Dimension X)
#156
The Return from Death (Hall of Fantasy)
#157
A Red & White Guidon (Quiet Please)
#158
New Year's Nightmare (Mysterious Traveler)
#159
A Diamond as Big as the Ritz (Escape)
#160
Souls for Sale (Mystery Playhouse)
#161
Kaleidoscope (Suspense)
#162
How Love Came to Professor Guildea (Escape)
#163
The Lonesome Corpse (The Haunting Hour)
#164
The Footprint (Escape)
#165
Present Tense (Suspense)
#166
The Devils Fortune (Inner Sanctum)
#167
Argyle Album (Suspense)
#168
Mission Complete (Suspense)
#169
Murder on Mike (Suspense)
#170
The Ring of Thoth (Escape)
#171
Riabouschenska (Suspense)
#172
The Two Lives of Colby Fletcher (The Whistler)
#173
If I Should Wake Before I Die (Quiet Please)
#174
The Final Reckoning (Creeps by Night)
#175
Martian Sam (X minus 1)
#176
Fall of the House of Usher (Escape)
#177
Something for Nothing (X minus 1)
#178
Good Ghost (Quiet Please)
#179
To the Future (Dimension X)
#180
Till Death Do Us Part (The Sealed Book)
#181
The Insect (2,000 Plus)
#182
Whence Came You (Quiet Please)
#183
Dead Earnest (Suspense)
#184
Clarisa (Quiet Please)
#185
When Worlds Meet (2,000 Plus)
#186
The Earthmen (Escape)
#187
Time on my Hands (The Sealed Book)
#188
On A Country Road (Suspense)
#189
Chance of a Ghost (Nightmare)
#190
The Invader (Escape)
#191
A Little Mourning (Quiet Please)
#192
Dead of the Night (Escape)
#193
And Jeanie Dreams of Me (Quiet Please)
#194
The Brooklyn Brain (2,000 Plus)
#195
The Dead Walk at Night (Inner Sanctum)
#196
The Miser (Dark Venture)
#197
The Roman (The Croupier)
#198
The Kettler Method (Suspense)
#199
Bu'Jest (Escape)
#200
Lost and Found (Mystery Playhouse)
#201
The Judas Clock (Inner Sanctum)***
#202
The Black Art (Inner Sanctum)***
#203
Ptolemy's Grave (The Haunting Hour)***
#204
Brief Pause for Murder (The Whistler)
#205
Wish To Kill (Inner Sanctum)***
#206
The Listener (Inner Sanctum)***
#207
The Temple of Huitilipochie (Hall of Fantasy)
#208
Nothing Up My Sleeve (Suspense)
#209
Death Pays the Freight (Inner Sanctum)
#210
Submarine Omega (Latitude Zero)
#211
Deep, Deep is my Love (Suspense)
#212
The Strands of Death (Inner Sanctum)
#213
The Man Who Thought He Was Edward G. Robinson (Suspense)
#214
The Devil and The Deep Blue Sea (Mysterious Traveler)
#215
The Voyages of Sinbad (Escape)
#216
The Return (Escape)
#217
Flesh Peddler (Suspense)
#218
Evening Primrose (Escape)
#219
2462 (Suspense)
#220
Death Comes to Adolph Hitler (Mysterious Traveler)
#221
Incident at Quito (Escape)
#222
The Fall of the House of Usher (Escape)
#223
Pollack and the Porroh Man (Escape)
#224
The Doll (Escape)
#225
Larva (Mystery Playhouse)
#226
Death of a Doll (Inner Sanctum)
#227
The Wax Work (Suspense)
#228
Raised from the Dead (Obsession)
#229
Hallucination Orbit (X minus 1)
#230
Death Has a Cold Breath (Mysterious Traveler)
#231
The Deadly Dummy (Inner Sanctum)
#232
Stand In For Murder (The Whisperer)
#233
Surface Tension (X minus 1)
#234
Terror Out of Space (Murder at Midnight)
#235
Pleasant Dreams Mr. Berkowitz (Mystery Playhouse)
(End of Series)
---
---
© 2007 Monsterwax Sci-fi & Horror Monster Cards