Your Favorite Five Radio Horror Hosts
Who do you think were the best 5 horror hosts?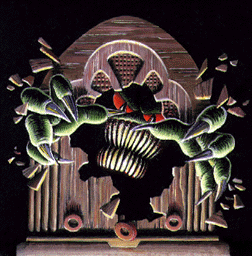 E-mail me your list (subject heading: horror host top 5)
Please follow these easy guidelines when listing your favorite horror hosts:
1. Please stick to horror or science fiction related shows, since that's our theme.
2. It doesn't have to be five, it can be less. But try not to go over five.
3. Include the series that the host was featured on.
4. Give a brief description of what the host was like and/or what you enjoyed most about him or her. (Especially if you can't remember the title of the episode or series.)
That's it! Your listing will be posted here for others to read and enjoy ASAP.
Remember, you can also vote for your top 10 radio episodes on another page!
---
QuickShadow's Favorite Five:
1. Paul Mcgrath from Inner Sanctum Mysteries - I heard him first, and so liked him better than Raymond. Also, he seemed more jovial. Raymond seemed meaner.

2. Maurice Tarplin from Mysterious Traveler- I think I just like the "stranger on a train" motiff.

3. Wyllis Cooper from Quiet Please - Seemed intelligent and gentle, and I liked the clever ways he'd work in the, "No persons living or dead" disclaimer.

4. Orson Welles from Mercury Theatre & The Black Museum - His brilliance shown though in everything he said. I have his closing remarks from the War of the Worlds broadcast committed to memory.

5. Nancy from The Witch's Tale - Her intros were often better than the stories.
This was fun - great site!
---
Mike's favorite horror hosts:
1. I like Arch Oboler of Lights Out fame, mainly because of his work, not his hosting abilities.
2. After that, Raymond of Inner Sanctum had some of the worst puns, but I love it!
3. After that, I really like E G Marshall, since I remember listening to him host the CBS radio Mystery theater in the late 70's, when I was a youngster.
---
Kurt's favorite 5 horror hosts:
1. Raymond from Inner Sanctum Mysteries. No surprise there. Even if the particular episode wasn't the best, you knew you could count on Raymond to make you crack a smile.
2. Maurice Tarplin from The Mysterious Traveler. He obviously loved to creep out passengers who set next to him on the train, and loved to tease them about next week's show.
3. Ernest Chappel from Quiet Please. He was really underrated as a narrator and actor. I never got tired of hearing him perform, even if it was in every single episode. He showed greater range than either Karloff or Lorre, in my humble opinion.
4. EG Marshall from The CBS Mystery Theater. As a kid, I loved to hear him open that creaking door and set up the spooky premise for the show.
5. Dr. Morgan from Mystery Playhouse. Okay, I'm partial, because I knew him. But he really had a neat voice and his puns were always a hoot.
---
.